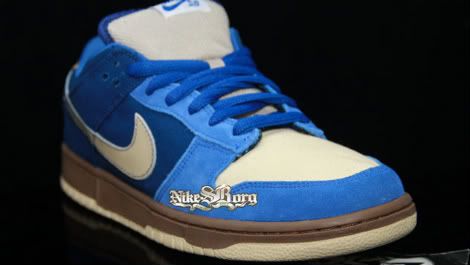 These are officially called the Melbourne Dunk or the Melbourne 'Gold Rail' Dunk.
They are on one of the covers of the new issue of Sneakerfreaker Magazine (#13), which is a mag made in Melbourne. it says Melbourne 'Gold Rail' Dunk on the cover.
The article inside says this:
"Melbourne Dunk SB
Residents of our hometown Melbourne know all about Flinders Street Station. People have been meeting under the train station's clocks since before time began, and now we have a Dunk to honour the famous skate spot with the gold rail.
The shoe features canvas, suede and mesh, with the varsity royal blue apparently inspired by Port Phillip Bay and the brown midsole chosen to represent the turdish Yarra River that winds its wiggly way through our magnificent city.
Simple but eye-catching, it will be available in October 08 at all great skate stores.
Like the Homer Dunk, this is one SB Melburnians can call our own!"
Info props to : Dirty via Sneakerfreaker Magazine (#13)
More from Dunk SB Low
---
<p><img src="http://blackboxes.s3-us-west-2.amazonaws.com/196f9138c67b94d9e63a6a455b3dc4a6.jpg" /></p> <p>We've seen photos on the forum of the latest J-Pack Hi, here's a look at the lo's. Check …
<img src="http://necrostock.s3-us-west-2.amazonaws.com/ab84ed26ed361f5f5e9a30b7b5707172.jpg" /> <img src="http://necrostock.s3-us-west-2.amazonaws.com/0ddebed2d1ad1f3cff6383a25a8bda2f.jpg" /> <p>Alright, we&#39;ll give you another look before anyone else. Our source tells us that there …
<p><img src="https://necrostock.s3-us-west-2.amazonaws.com/nike-dunk-sb-giraffe-21451261.jpg" /></p> <p>Different kind of "Safari" print hits the Dunk lo in the upcoming months.. check out more after the …
Editor Picks
---