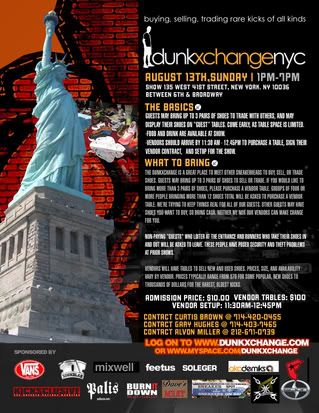 Date: Sunday, August 13th, 2006
Time: 1 p.m. to 7p.m.
Where: Show (135 W.41st Street btw 6th ave & Broadway)
Contact: Curtis Brown (714)420-0455 Gary Hughes (714) 403-7465 Alvon Miller (212) 671-0739
Admission: $10 Vendor Tables: $100 (Set up time is from 11:30 til 12:45 p.m. only)
Price Range for Kicks: $70 up to Thousands. www.dunkxchange.com www.myspace.com/dunkxchange
Here's the Deal: Guests can bring up to 3 pairs of kicks to trade with others, and may display their shoes on guest tables. Come early as table space is limited. -Food and Drink are available at the show. –
HOPE TO SEE YOU ALL THERE!!!
More from Offbeat Info
---
Just in this afternoon via the good people over at Premier is this clean looking dunk high from Nike SB. …
After weeks of rumors, Bonnaroo has confirmed earlier this morning that U2 will make their first apperance headlining a US …
Complex Magazine has gathered together their list of "The 20 Sexiest Female Nike Athletes of All Time." Check it …
Editor Picks
---