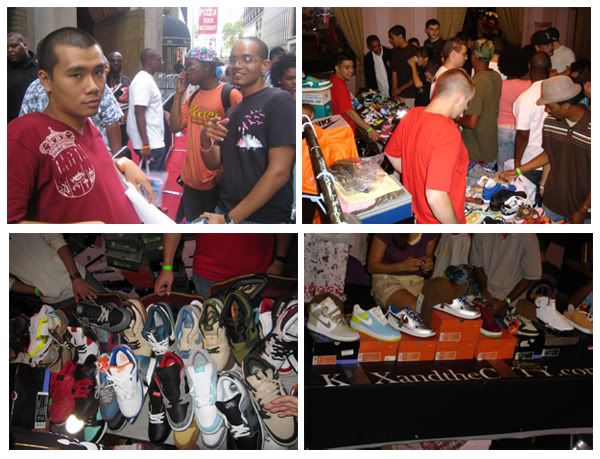 ok here's the deal TODAY WAS MY VERY FIRST SNEAKER EVENT EVER, THE NYC DUNK EXCHANGE 2006 i reached there late due to traaffic and train delay but never the less i made it. I expected to see more people show up but i assume at later or early time people were there on their own schedule. On a scale 1 to 10…about a 9'5. my only dislike was the crowding for such a large event.
But other than that the show was totally dope, fresh kicks lots of heat, alot of people dressed to impress in the hottest street brands and BANGING MUSIC TO GET ME IN THE MOOD TO BUY KICKS, im assuming hot 97 was controlling the tunes. all in all good fun and i look Foward to the next event. SHOUT OUT'S TO ALL WHO ATTENDED, AND TO BOBO I ALMOST DIDNT RECOGNIZE YOU BUT IM GLAD TO SEE YOU WERE CRUSHING IT IN YOU TAKASHI'S. BOHDUS WHERE WERE YOU? 🙁 MAZE… JACE…FRANKLIN… JMDBRIAN ( did i spell right)…xdexg ( did i spell right?, you had bought bandaids) …and as usual my right hand man MODERATOR JACE1 !
Props to all NSB'er who attended edgex, SOLEHUNTER, jdmbrianeg, jace1, bobo,Franklin,pinoy and others (sorry if i miss out their names)..
bohdus n MaZe with all their sick kicks n tables…
More Pictures after the jump..
Images n Info: NSB'er SOLEHUNTER
More from Offbeat Info
---
Just in this afternoon via the good people over at Premier is this clean looking dunk high from Nike SB. …
After weeks of rumors, Bonnaroo has confirmed earlier this morning that U2 will make their first apperance headlining a US …
Complex Magazine has gathered together their list of "The 20 Sexiest Female Nike Athletes of All Time." Check it …
Editor Picks
---