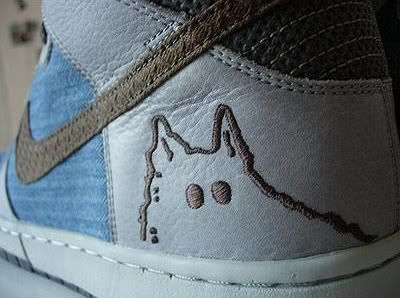 From the Stones Throw newsletter:Greetings. Lots of exciting bizness heating up on the left coast, and I'm not just referring to the heat. Although, Glen Fry said it best 'The Heat Is On' which is definitely the case at Stones Throw Headquarters. We are celebrating our 10 Year Anniversary with a bang: a worldwide tour (Sept – Nov: Japan, Europe, & US/Canada), project w/ Adult Swim titled Chrome Children (this is the follow-up to Danger Doom & will be released Oct 3rd), & an array of limited-edition items including: Nike Dunk (high-top), Kid Robot Toy, 10 Limited-Edition Tshirts, & a few surprises in-store.
warhead quote: Lord Quas (Quasimoto) is an alter ego of Madlib. He's an alien wich is why he has such a strange voice. On the real it is a thing Madlib thought off when he made beattapes. He'd do some rapping on it but because he thought he sucked with his regular voice he decides to rap in really slow and speed it up to regular tempo. That's why Quas has a high pitched voice (and why he sounds different some times). Peanutbutter Wolf (Stones Throw owner) really liked Quas and encouraged Madlib to maken an album. Quas also appeared on the first Lootpack album. At this time being two Quasimoto albums have been released. The classic debut 'The Unseen' and last years 'The Further Adventures Of Lord Quas'.
dirty quote: change of plan. Madlib just uploaded these pics. they are officially the Stones Throw dunk.
Info n images : NSB'er warhead n dirty via Fixins
More from Dunk
---
The second batch of GR SBs for July has landed in stores, and this time it's the Dunks. On sale …
Nike SB Dunks in various colors and sizes. Click image for detailed pictures.
Goods will be releasing NSW Dunk Hi x Questlove Pack on Saturday, March 5th @11am. They will be releasing both …
Editor Picks
---