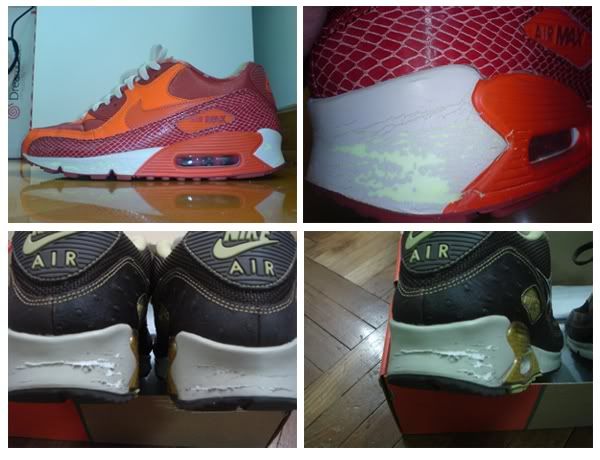 ahhh how we love nike's QC 12 hours wear – a fair few other locals had the same problem and had to return them.
these are the second pair in a month (along with the HUF's) that had to be removed from the shelves.
yes, my mates shop sold them. his buyers had about 4 pairs of Nash's crack in the first two days so he had to take them all off the shelf and return them to Nike.
yeah Nike are pretty good like that. i remember back in 1992 when a whole lot of my mates' Air 180's popped and Nike exchanged/refunded all of them. but make sure you let Nike know … cos they can't fix their QC problems otherwise!
It is happening to a lesser extent on my 2003 BW's (black/purple). it happened slightly to the MX Oranges and a few others too… but not so bad as this. the HUF's and Nash's are probably the worst thus far. it has been happening ever since they switched from full colour moulded soles to a standard sole colour with paint over the top. basically the elasticity of the paint is a lot less than the elasticity of the actual soles … so it cracks. either …
a) don't wear em and take em back straight away. (get a refund. take printouts of the cracking pics to show dud quality … say you don't want to take the risk)
or b) rock em now, if they stuff up then take em back straight away. whatever you do don't keep hold of them if you plan to rock em at a much later date. it'll be that much harder to claim if they stuff up.
Images n info: NSB'er chiu_kee n dirty
More from Offbeat Info
---
Just in this afternoon via the good people over at Premier is this clean looking dunk high from Nike SB. …
After weeks of rumors, Bonnaroo has confirmed earlier this morning that U2 will make their first apperance headlining a US …
Complex Magazine has gathered together their list of "The 20 Sexiest Female Nike Athletes of All Time." Check it …
Editor Picks
---