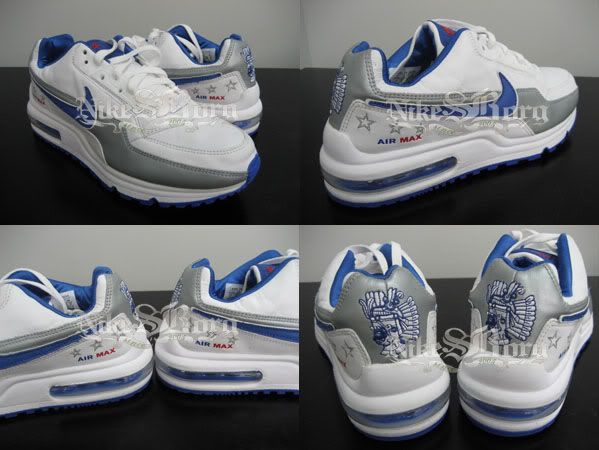 Pictures shown are the newest additional colorway of Air Max LTD "BRS Boxing LA" all leather in white/Navy Blue – silver color.
The Boxing LA is part of the "BRS Boxing pack" which included the previous released "Boxing Asia"..
And please look at the wonderful details on the heels! Blue sole and blue inside "bubble".
Enjoy n Peace
More pics after the jump..
More from Air Max
---
<img src="http://necrostock.s3-us-west-2.amazonaws.com/b3ea684388c4e0c1e5d4b6f662d7aa25.jpg" /> <img src="http://necrostock.s3-us-west-2.amazonaws.com/e51264665f018470873417d4ae482c43.jpg" /> <img src="http://necrostock.s3-us-west-2.amazonaws.com/37135840a927975b320bbb590f5c76f5.jpg" /> <img src="http://necrostock.s3-us-west-2.amazonaws.com/f5c3a3196377cc8614a9091ea094d204.jpg" /> In Celebration of the Anniversay of Apollo 11 …
<img src="http://necrostock.s3-us-west-2.amazonaws.com/4d6aed644674236e4b187ddd0a6b717c.jpg" /> <img src="http://necrostock.s3-us-west-2.amazonaws.com/d3423e8ede8d96c6d8d32b4338103c71.jpg" /> <img src="http://necrostock.s3-us-west-2.amazonaws.com/9518c1e1949c41c3c92674bc6c636154.jpg" /> <img src="http://necrostock.s3-us-west-2.amazonaws.com/b057fa2f08da1844d8a7acde8fd640cc.jpg" /> <img src="http://necrostock.s3-us-west-2.amazonaws.com/64035dfe028b33774447e5bdaef19a1a.jpg" /> <img src="http://necrostock.s3-us-west-2.amazonaws.com/3b7ed8786b08df304ee0bd124040b426.jpg" /> <img src="http://necrostock.s3-us-west-2.amazonaws.com/a0997bc632e6977a2fe440af361a8699.jpg" …
Screenshots today have leaked pictures of another oncoming Nike x Atmos collaboration, this time working with two Air Max …
Editor Picks
---