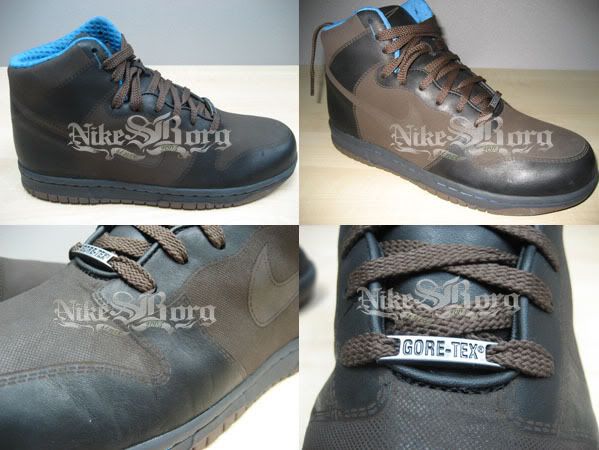 This is a pair of seamless 1 piece Premium High Dunk part of the "Adventure Park" Pack which consisted of Premium High Dunk and Seamless High Dunk..
Shoes are made of special material called "Gore-Tex" on both the side panel n front toe box with combination of soft leather found on the lace hole tab n back heel.
Sick brown/black n navy blue thread & inner lining colorway..
Very creative n amazing on the technical skills in combining 2 materials into 1 piece seamless shoes without any stitching or joints….Crazy ideas,skill n workmanship..
wikipedia: Gore-Tex based fabric material is composed of a thin, porous fluoropolymer membrane with a urethane coating that is bonded to a fabric, usually nylon or polyester. The membrane has about 9 billion pores per square inch, each of which is approximately 20,000 times smaller than a water droplet, making it impenetrable to liquid water while still allowing the smaller sized water vapor to pass through. The result is a material that is breathable, yet waterproof and also windproof. The outer fabric is treated with water repellent and seams are sealed to prevent water leakage through pinholes caused during the sewing of the fabric. The urethane coating provides a protective layer and also prevents contamination (i.e. body oils) from wetting the laminate and allowing wicking of moisture through the membrane. enjoy n peace
More from Dunk
---
The second batch of GR SBs for July has landed in stores, and this time it's the Dunks. On sale …
Nike SB Dunks in various colors and sizes. Click image for detailed pictures.
Goods will be releasing NSW Dunk Hi x Questlove Pack on Saturday, March 5th @11am. They will be releasing both …
Editor Picks
---