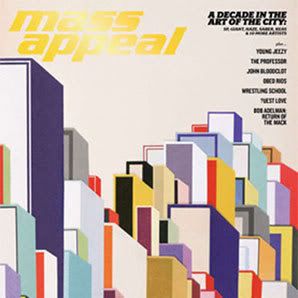 Mass Appeal is a urban mag that features the newest info and exclusive editorials for the "street culture". They feature great articles on brands, artsists, and shops.
We are honor to be choosen as a top 10 street culture blog..Cheers..
QUOTE(Lucid Chris @ massappealmag.com)
STAY INFORMED Words: Lucid Chris So you wanna stay fly this winter, well it's all about stay informed! And so I have compiled a list of the best internet blog sites for you to visit while you go idle at work! Pay no attention to the order in which they are listed! Every site here deserves a number one spot!
1. Hypebeast.com (I'm addicted!) 2. CtotheJL.com (dope) 3. Honeye.com (japanese fashion in a nut shell)
4. NikeSB.org (A sneaker fiend dream) 5. Weeklydrop.com (Audio crack!) 6. Highsnobiety.com (ummm.) 7. Thegalaxyrider.com (Waddup QL) 8. Thehundreds.com (chronicles is chronic) 9. Addicted2Bape.blogspot.com (because its my site! plug) and last but damn well not least……….. 10.massappealmag.com (we are running this blog Ish!)
Props NSB'er xjomox
More from Website Info
---
83$ Kobe 7s! Lebron 9s for 111$! Nike is doing a bit of housecleaning with their Kobes and Lebrons as …
The Supreme Dunk SB came and gone in a matter of 25 seconds, quite an amazing feet to scale. With …
Did you miss out on grabbing a Diamond Supply Co   perforated iPhone 4 case in the iconic …
Editor Picks
---