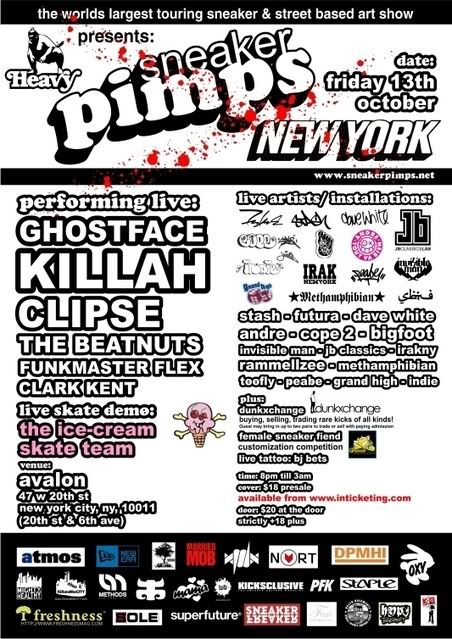 YO JUST A HEADS UP OCT 13 ITS GOING TO BE TWO GREAT SHOWS IN ONE. SNEAKER PIMPS NYC FEAT DUNKXCHANGE NYC.
FRIDAY 13TH OCTOBER @ AVALON (20TH ST & 6TH AVE)
performing live: GHOSTFACE CLIPSE THE BEATNUTS FUNKMASTER FLEX CLARK KENT
artist installation: FUTURA – STASH – DAVE WHITE – BIGFOOT – SBTG – METHAMPHIBIAN….any many more.
LIVE SKATE DEMO WITH ENTIRE ICE CREAM SKATE TEAM. plus DUNKXCHANGE FEMALE SNEAKER FIEND
presale ticket avalible here: http://www.inticketing.com/evinfo.php?eventid=13131
More from Events / Shows
---
If you are familiar with the SPoT blog, then you have probably seen articles related to all things sneakers written …
In support of Alive & Well associate fourcolorzack's(USA) attempt to win the Redbull Thre3style world finals this week in …
Friday September 7th 2012, Crazy Monk aka Steve Olson will be celebrating the release of his debut album, "27th Letter …
Editor Picks
---