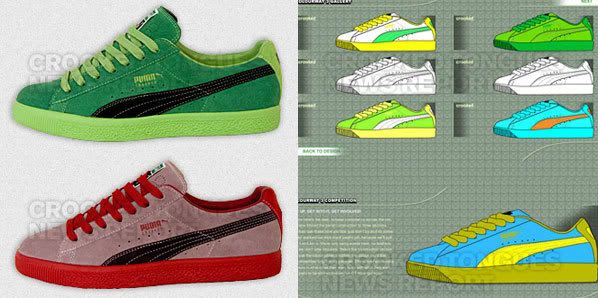 Crooked Tongue is holding a Puma Clyde Design Competition and for further details please log in CROOKED TONGUE
Quote NSB'er iceberg:
so bassicly i have some friends over at crooked got talking to them about good old nsb, they did us a favour and sent us some pics of the finished samples of the clydes…. also he informed me tht both are being released in VERY limited numbers……. another note is that the third clyde is to be decided you must go on to their site and use the coluor picker, the winner of tht competition will have their shoe made they will recieve 10 pairs for them in any size they wish… then the shoe will be released in a 200 number production number!…. so heres the pics guys! EAT IT UP!
More from Offbeat Info
---
Just in this afternoon via the good people over at Premier is this clean looking dunk high from Nike SB. …
After weeks of rumors, Bonnaroo has confirmed earlier this morning that U2 will make their first apperance headlining a US …
Complex Magazine has gathered together their list of "The 20 Sexiest Female Nike Athletes of All Time." Check it …
Editor Picks
---