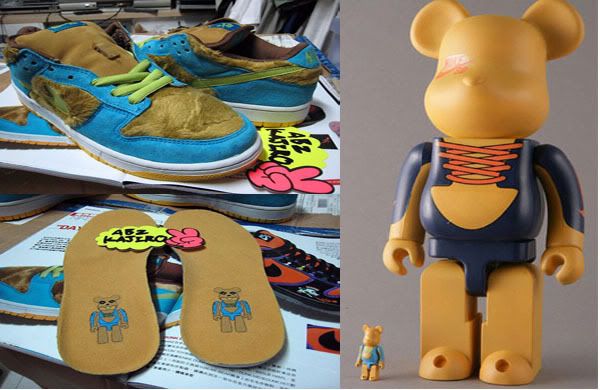 As we posted before, the 50% and 400% "Three Be@rbrick" project would come with the same colorway Dunk SB. From the pictures shown, we may expected the 400% Be@rbrick represents Dunk SB Hi, 50% Be@rbrick represents Dunk SB Low.
The delay of the launched could it be due to Be@rbrick will drop in November/Dec 2006, and both to be released in the same period of time..just a guess.
Many thanks to Justfixit@NT via ABZ KAJIRO of the latest version of the bear low detail/close up pictures with a bit change on the tongue and a close up picture of the Bearbrick print on the insole…nothing confirm at this time and will update once we have the latest info on this bear dunk…

More pics after the jump..
More from Dunk SB Low
---
<p><img src="http://blackboxes.s3-us-west-2.amazonaws.com/196f9138c67b94d9e63a6a455b3dc4a6.jpg" /></p> <p>We've seen photos on the forum of the latest J-Pack Hi, here's a look at the lo's. Check …
<img src="http://necrostock.s3-us-west-2.amazonaws.com/ab84ed26ed361f5f5e9a30b7b5707172.jpg" /> <img src="http://necrostock.s3-us-west-2.amazonaws.com/0ddebed2d1ad1f3cff6383a25a8bda2f.jpg" /> <p>Alright, we&#39;ll give you another look before anyone else. Our source tells us that there …
<p><img src="https://necrostock.s3-us-west-2.amazonaws.com/nike-dunk-sb-giraffe-21451261.jpg" /></p> <p>Different kind of "Safari" print hits the Dunk lo in the upcoming months.. check out more after the …
Editor Picks
---