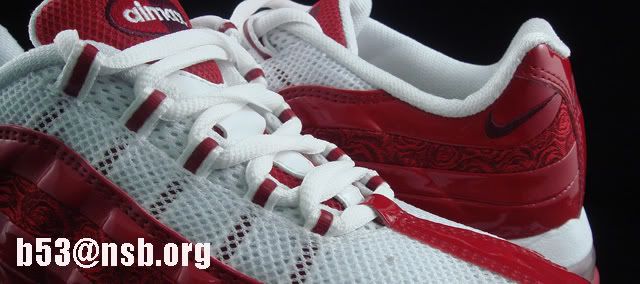 In addition to the 2 dunks Low n Legend preview samples we posted a while back on the Valentine's Day theme releases, heres the latest additional of another preview samples of WMN's 95 Zen which will be include in the 07 Valentine's Day series period.
The "Valentines Day" AM95 Zens made of Red Patent Leather and White Upper, a rose pattern design print on the middle of the panels between the patent leather stripes. Insole printed with a rose on it..
enjoy

More pics after the jump..
More from Air Max
---
<img src="http://necrostock.s3-us-west-2.amazonaws.com/b3ea684388c4e0c1e5d4b6f662d7aa25.jpg" /> <img src="http://necrostock.s3-us-west-2.amazonaws.com/e51264665f018470873417d4ae482c43.jpg" /> <img src="http://necrostock.s3-us-west-2.amazonaws.com/37135840a927975b320bbb590f5c76f5.jpg" /> <img src="http://necrostock.s3-us-west-2.amazonaws.com/f5c3a3196377cc8614a9091ea094d204.jpg" /> In Celebration of the Anniversay of Apollo 11 …
<img src="http://necrostock.s3-us-west-2.amazonaws.com/4d6aed644674236e4b187ddd0a6b717c.jpg" /> <img src="http://necrostock.s3-us-west-2.amazonaws.com/d3423e8ede8d96c6d8d32b4338103c71.jpg" /> <img src="http://necrostock.s3-us-west-2.amazonaws.com/9518c1e1949c41c3c92674bc6c636154.jpg" /> <img src="http://necrostock.s3-us-west-2.amazonaws.com/b057fa2f08da1844d8a7acde8fd640cc.jpg" /> <img src="http://necrostock.s3-us-west-2.amazonaws.com/64035dfe028b33774447e5bdaef19a1a.jpg" /> <img src="http://necrostock.s3-us-west-2.amazonaws.com/3b7ed8786b08df304ee0bd124040b426.jpg" /> <img src="http://necrostock.s3-us-west-2.amazonaws.com/a0997bc632e6977a2fe440af361a8699.jpg" …
Screenshots today have leaked pictures of another oncoming Nike x Atmos collaboration, this time working with two Air Max …
Editor Picks
---