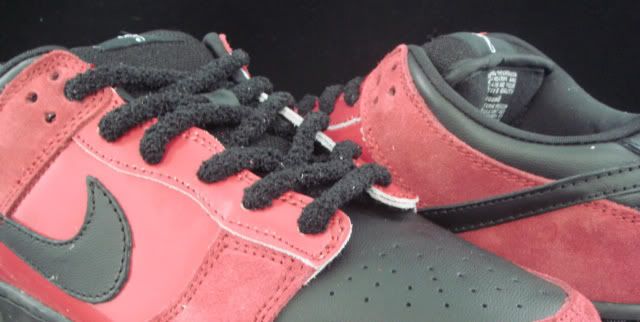 Here is a new Nike SB Dunk Lo sample Milli Vanalli with no box n extra lace yet, will update once we have the release shoe soon.
These particular shoes are the Milli Vanilli Dunk SBs is dedicated to Milli Vanilli, a pop group whose exposed lip-syncing eventually ended their short career. Other Fallen Heroes shoes in the pack consist of the Pee Wee Herman Dunk Hi, MC Hammer Air Classic and the Vanilla Ice Blazer. Nike SBs "Fallen Heroes" Pack, were dedicated to 90s pop culutre Fallen Heroes.
No official release date yet but should be safe to say that they will release next year 07.
Also, as you can see these black/red Dunk SB's sport patent leather on the inside panel and contain the G-Clef symbol on the tongue. On shoes dreadlock laces and extra normal SB laces.
Tkx KATC for the infos..

NSB.ORG Dunktionary
More from Dunk SB Low
---
<p><img src="http://blackboxes.s3-us-west-2.amazonaws.com/196f9138c67b94d9e63a6a455b3dc4a6.jpg" /></p> <p>We've seen photos on the forum of the latest J-Pack Hi, here's a look at the lo's. Check …
<img src="http://necrostock.s3-us-west-2.amazonaws.com/ab84ed26ed361f5f5e9a30b7b5707172.jpg" /> <img src="http://necrostock.s3-us-west-2.amazonaws.com/0ddebed2d1ad1f3cff6383a25a8bda2f.jpg" /> <p>Alright, we&#39;ll give you another look before anyone else. Our source tells us that there …
<p><img src="https://necrostock.s3-us-west-2.amazonaws.com/nike-dunk-sb-giraffe-21451261.jpg" /></p> <p>Different kind of "Safari" print hits the Dunk lo in the upcoming months.. check out more after the …
Editor Picks
---