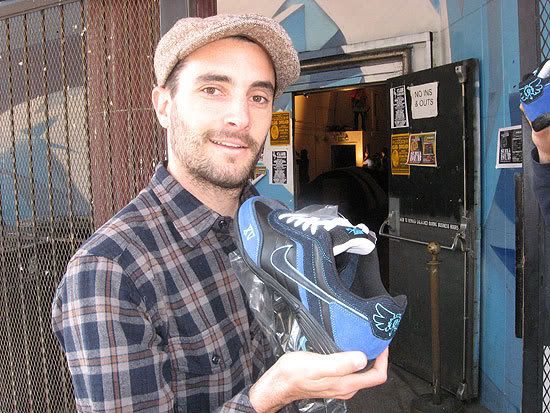 After the Thrasher Blazer Nike SB gets down with another skatemag for a collabo. Slap Magazine celebrated it's fifteenth anniversary last Friday in San Francisco and to honor them the guys at Nike SB gave them the oppertunity to design their own version of the Abington, and here it is. Those that frequently visit the mag's website (and it's excellent forums) will recognize the colors used for this shoe. We also see an 'XV' on the toebox (like I said, it's their fifteenth anniversary) and the Slap Angel logo on the back of the shoe. I'm not sure about the exact releasemonth but I believe it's dropping this summer.
Photo thanks to Epicly Trife.
Discuss in our forum!
More from Nike SB
---
400
Recently, Nike selected an SB App user to receive a customized pair of Janoski's. Watching the video, most notably around …
Nike SB has released the Lost Art Collection, featuring designs by Liverpool artist/skater David Mackey. We have the Lost …
Editor Picks
---