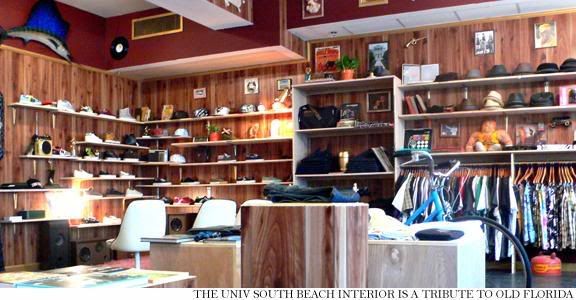 On June 7, UNIV celebrated the Grand Opening of their second location in South Beach Miami Florida. The event featured the sounds of San Diego's DJ Iron Mike and was attended by the who's who of Miami street culture and many industry personalities from all over the United States.
UNIV Shop is located at 100 Collins Avenue #2,3 in South Beach, at First Avenue, between Washington and Collins. Tel.305.534.3511
Shout outs to Allan for the pictures as well as Nash, Joe, Redmond, Tim and the rest of the UNIV crew! For additional pictures click here.
UNIV began in 2006 with the opening of the UNIV Concept Shop in Encinitas, California. UNIV is, in short, "universal" and we are inclusive to all types and cultures. We proudly offer our own uniquely designed UNIV products from denim to t-shirts, fleece, cut-and-sew garments, bags and accessories, for men and women. The UNIV product line features a classic aesthetic, intricate details, and a sense of fun.
The UNIV Select Shop features uniquely selected footwear, apparel and accessories, and is located one block from the ocean on 1st St between Washington and Collins Avenue. In addition to UNIV products, the shop proudly carries items from other key brands such as Stussy, Crooks & Castles, Mike, Coup de Grace, Vans, New Balance, Adidas, Hellz Bellz, 10 Deep, Zoo York, Clae, Kid Robot, In4mation and more. The UNIV Concept Shop features a truly unique interior, a tribute to classic Florida complete with one-of-a-kind handmade and modern elements combined with an array of eclectic collectibles.
More from Regional Shops
---
  London skate brand Palace has certainly been turning heads since arriving on the scene not too long ago. And …
To celebrate moving to its new premises, UK skate store Lost Art is holding a raffle to give one …
London's Slam City Skates has slashed the prices on a large selection of its Nike SB range. The …
Editor Picks
---