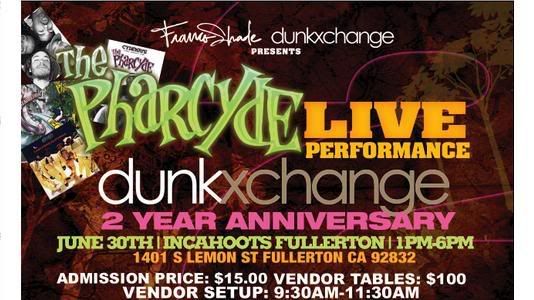 Location:
INCAHOOTS Fullerton
1401 S Lemon St, Fullerton, CA 92832
Admission:
$15 per person
$100 per table (up to 4 people)
AGENDA:
9:30am-11:30am Vendor Setup
1pm-4pm DunkXchange
4pm-6pm Concert featuring The Pharcyde
This is gonna be a huge celebration. Special guests The Pharcyde will be in attendance to perform at the end of the DunkXchange. The biggest thing about the celebration is that we will have gifts for the first 200 people. And they will be great gifts valued at least $100 bucks each.
Tickets will be $15 bucks for the entire event, concert and giveaways for the first 200 people. Tables are still $100 for up to 4 people. The twinz will be in the house displaying their special world's best collection.
Hosted by E1 Turntable Assassins. Featuring performances from The Pharcyde, K9 the Human Beatbox, and Pacific Division.
Also featuring sneaker artist Dino Mayorga.
More information can be found on our forums and www.dunkxchange.com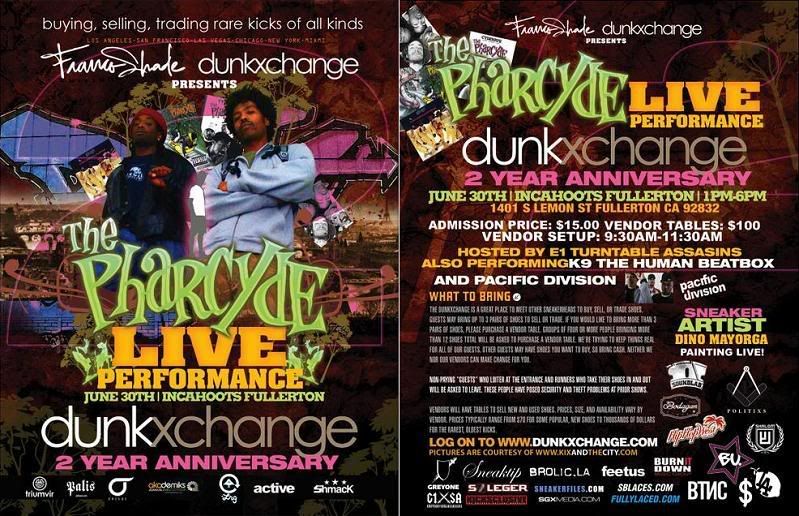 More from Events / Shows
---
If you are familiar with the SPoT blog, then you have probably seen articles related to all things sneakers written …
In support of Alive & Well associate fourcolorzack's(USA) attempt to win the Redbull Thre3style world finals this week in …
Friday September 7th 2012, Crazy Monk aka Steve Olson will be celebrating the release of his debut album, "27th Letter …
Editor Picks
---