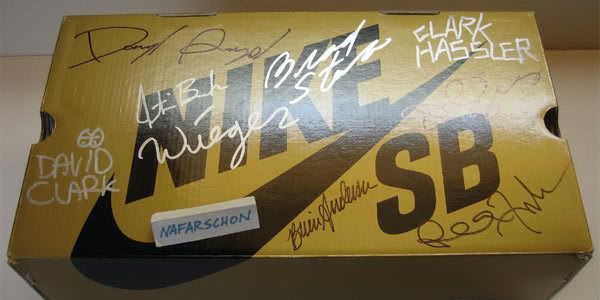 Through the tons of listings on eBay every now and then you bump into a special one. This is one of those occasions. A fresh, completely DS pair of What The Dunks (sz 10.5) with a signed box, a Nothing But The Truth T-shirts (sz M or XL), a NBTT film poster, the superlimited NBTT soundtrack and some flyers of the Nothing But The Truth Tour stop at Cotown Skateshop in Arizona. But the best part is that the money that's paid for this package is going to a good cause: Skateboarder Lee Bender. Lee, a Arizona local, has recently been diagnosed with multiple sclerosis or MS. This disease attacks your central nerve system and can lead to things like spasms, reduced eyesight and paralysis. Lee's medical bills are taking a heavy toll on him as well. Lee's friends try to help him out by organising several charity events, including this What The Dunk Auction. So if you have a couple of extra bucks to spare, you could buy some shoes from some greedy reseller or spend it here, get a great package and help a person that could really use the support.
And even though Thanksgiving was yesterday, say an extra thanks for the health of you and your family.
More about Multiple Sclerosis.
Discuss on our forums.
More from Nike SB
---
398
Recently, Nike selected an SB App user to receive a customized pair of Janoski's. Watching the video, most notably around …
Nike SB has released the Lost Art Collection, featuring designs by Liverpool artist/skater David Mackey. We have the Lost …
Editor Picks
---