Remember the 80's? Nike does.
Continuing with their 80's inspired Dunks, (Skate or Dies! and 720's) comes the Dunk SB High – Thrashin'. While the images here are from a sample listed on eBay, you can expect the final version to look identical to this model. The official color is listed as 'wht/chlorine blue', and features a blue to red gradient swoosh, as well as a spider web pattern near the heel. These are expected in Nike SB accounts in Summer of 2008′, with the release month unknown at this point.
Hit the link for detailed images from the eBay auction, as well as the poster the shoes are inspired by.
The link to the actual eBay auction is located here: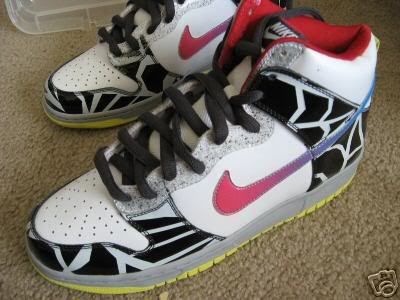 You might also like
---
More from Dunk SB Low
---
<p><img src="http://blackboxes.s3-us-west-2.amazonaws.com/196f9138c67b94d9e63a6a455b3dc4a6.jpg" /></p> <p>We've seen photos on the forum of the latest J-Pack Hi, here's a look at the lo's. Check …
<img src="http://necrostock.s3-us-west-2.amazonaws.com/ab84ed26ed361f5f5e9a30b7b5707172.jpg" /> <img src="http://necrostock.s3-us-west-2.amazonaws.com/0ddebed2d1ad1f3cff6383a25a8bda2f.jpg" /> <p>Alright, we&#39;ll give you another look before anyone else. Our source tells us that there …
<p><img src="https://necrostock.s3-us-west-2.amazonaws.com/nike-dunk-sb-giraffe-21451261.jpg" /></p> <p>Different kind of "Safari" print hits the Dunk lo in the upcoming months.. check out more after the …
Editor Picks
---