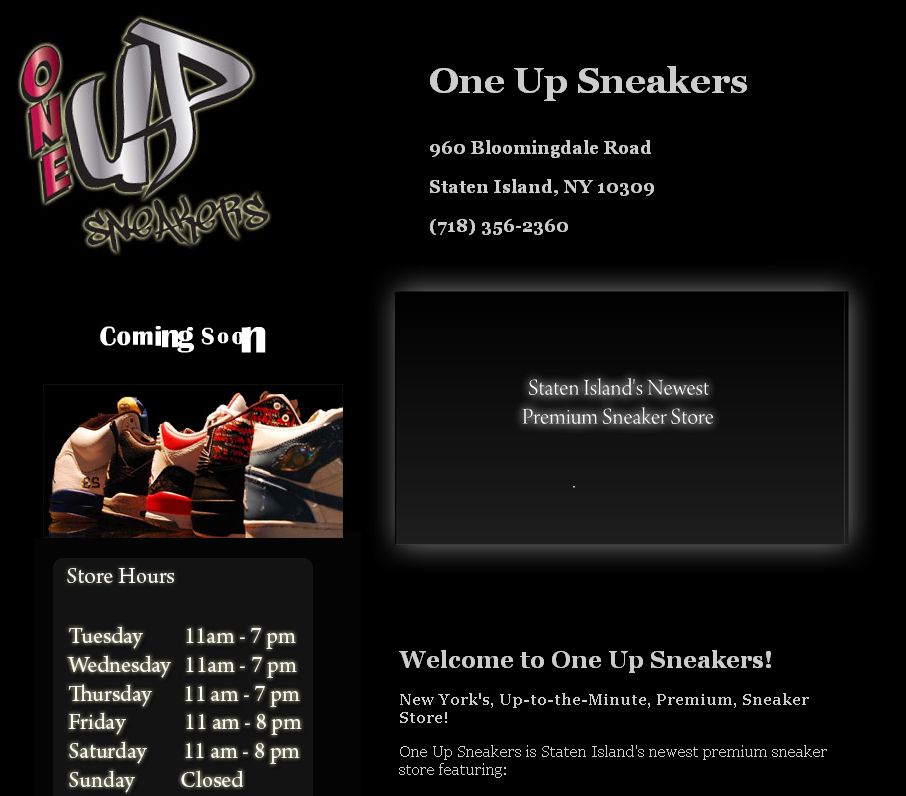 Here at N-SB.org we are always down to help our members out.  This one's for all the NY-based folks.  One Up Sneakers opened up as the first sneaker boutique on Staten Island.  The shop owner, Ron, reached out to us to help get a little bit of press for his shop, so here it is for you all. 
Here's the story behind the shop, the good people there, and where they're trying to take things.  We wish em nothing but the best in the future.  Tell em N-SB.org sent ya!
From an interview with Ron and One Up Sneakers:
I decided to open a sneaker store on Staten Island because I got fed up with traveling to Brooklyn or Manhattan for limited  kicks and then dealing with snobs and hearing that they never had my size, not to mention NYC tolls. I am lucky enough to be involved with a family that has been in the sneaker game for many years. I decided to ask for a few referrals and here we are today, One Up Sneakers, Staten Island's ONLY Premium sneaker store located on the South Shore at 960 Bloomingdale rd. carrying Air Jordan, Nike Sb, Supra, Adidas and lots more.
When we decided to open we were going to hook the store up with a sports theme (Astroturf flooring, field goal painted on one wall and a baseball outfield on the other). We had originally planned on carrying some sporting apparel as well as sneakers for all the local schools. After doing some  research it came to us that Staten Island needed a more premium "Sneaker Boutique" rather than just another sneaker/apparel store. We did not want to be like all the other sneaker stores so we decided to find all unique brands for our t-shirt's and accessories. All of the t-shirts are from local Staten Island Designers, SubConcious Threads, Downside Up, Short Days and long Nights, Cloud Kickers and our best selling t-shirt line Contraverse Clothing, making us unique in the sense that we do not carry the same brands as all other sneaker/apparel stores throughout NYC. This has proven to be successful since we are increasing sales daily and continuing to add to our inventory.
When we opened we hit the sneaker convention scene pretty hard, this is where our personalities came out, when I say personalities I mean our resident SNEAKER HEAD's, the crew at One Up Sneakers, Eric (E-roc), Kevin (K-Dawg), Chris (Cee Daddy), Phil (Philly feet), Jon (Big Foot), Nikki (Nikki Nice) and myself and family. We managed to make many friends and did some networking. It was our personality and uniqueness that helped us make the appropriate connections to help us get in a lot of sneakers before the actual release dates. Currently we have in the Jordan 11 "SPACE JAMS", Jordan 6's Blk/Red, and a bunch more. We also get in many Quick Strikes as well as Hyper Strikes. We are currently in the decision making process as to whether we want to open a "pro" skate shop beneath our store. We have opened all the necessary accounts for skateboarding, BMX and aggressive inline skating to get it rolling. So maybe in Spring 2010 One Up Skates will open its doors. Right now our main project is oneupsneakers.com which should be fully functioning in the next 2-3 weeks. This will allow us to go global, which is our intentions.
So keep your eyes and ears open for One Up Sneakers, if you haven't already heard.
More from Nike SB
---
405
Recently, Nike selected an SB App user to receive a customized pair of Janoski's. Watching the video, most notably around …
Nike SB has released the Lost Art Collection, featuring designs by Liverpool artist/skater David Mackey. We have the Lost …
Editor Picks
---